I'm not afraid to own up to it when I mess up.  And I made a major faux pas with the Fall 2016 GYPO Style Challenge.
Let me take you back to last Friday night.  It all started out innocently enough.  I walked into Target "just for coffee" but walked out with crushing guilt because I knew I had to make things right.
On the way to the register, I got distracted by these pretty plaid shirts and was totally mesmerized.  Sure enough, the green one in today's outfits ended up in my cart.  (At this point, you're probably asking why I had a cart when I only went in for coffee.  I think we both know the answer to that.)  🙂
The only problem with this purchase is I realized that I had made a terrible mistake.  I didn't include a plaid shirt on the fall capsule shopping list!  Which meant if I wore this shirt, I'd feel like a total fraud.  So, I made the decision, for the first time ever, to put an additional item on the challenge shopping list, after it had already been released, and created three additional bonus outfits around it.
That brings the outfit total for the Fall 2016 GYPO Style Challenge to 27 – our biggest challenge ever!
Thankfully, the Style Challengers are an amazingly understanding group and happily embraced this decision.  Which is great because I lost sleep Friday night until I could make the announcement in our Facebook group on Saturday morning!  Neurotic much?
Today I'm showing you three more ways to pair up a plaid shirt in some fall transition outfits while we wait for true fall weather to arrive. Keep in mind these are NOT the bonus outfits for the challenge, those outfits are styled for cooler fall weather.
Tip:  Pin these images to your fall outfit board for easy outfit inspiration!
# 1 – Plaid Shirt + White Jeans + Ankle Boots
Don't put away those white jeans just yet!  Pair them up with a lightweight plaid button down and some peep toe booties for a fall transition look that's chic and stylish.  P.S.  This was one of the most liked outfits I've ever posted on Instagram!
[Shirt:  Same/Jeans:  Same/Watch:  Same/Bracelet:  Same/Earrings:  Same/Ankle Boots:  Similar]
#2 – Plaid Shirt + Tank Top + Shorts + Sandals
Long sleeves with shorts?  YES!  Layer your lightweight plaid shirt over a tank top and pair it with dark wash denim shorts and sandals.  It's perfect for those "fummer" (not quite fall, not quite summer) days!
[Shirt:  Same/Tank:  Same/Shorts:  Same/Necklace:  Same/Sandals:  Same]
Here's how I paired this outfit up in real life this week:
#3 – Plaid Shirt + Boyfriend Jeans + Long Cardigan + Sneakers
Half tuck the front of your plaid shirt into a pair of slouchy boyfriend jeans, finish it out with a light cardigan and slip on sneakers for a cute and comfy fall transition look.
[Shirt:  Same/Jeans:  Similar/Cardigan:  Similar/Sneakers:  Similar/Watch:  Same/Necklace:  Same]
SHOP THE LOOKS
Fall Style Challenge Open
Build your fall capsule wardrobe and let me be your personal stylist this fall.  Registration for the Fall 2016 GYPO Style Challenge is now open.  You'll get your capsule wardrobe shopping list plus 27 days of mix and match outfit ideas created from pieces on the list.  Hurry, the bonus outfits are only available through September 30th!  Sign up HERE.
Getting my pretty on with Style Elixir, Sheaffer Told Me To, The Pleated Poppy, The Mix, Jo Lynne Shane, A Little Bit of Everything, and Two Thirty-Five Designs.

I Feel Pretty Link Up
It's the day of the week at GYPO where we celebrate what makes us feel pretty. Whether it's a new outfit, hairstyle, or makeup, the I Feel Pretty link up is about anything and everything that makes your life prettier. Even if you're not a blogger, you can still play along. Just tell us what made you feel pretty this week in the comments.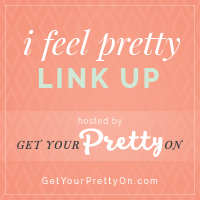 Get Your Pretty On
Instructions: Select all code above, copy it and paste it inside your blog post as HTML
There are just a few simple rules:
1. Follow GYPO. (
Bloglovin
',
Facebook
, 
Instagram
or
Pinterest
)
2. Link up your pretty post.
3. Link back to GYPO (using the button above or your own link).
4. Visit other pretties.
That's it, now go have some fun!