Payday Pretty is my regular Friday feature where I challenge women to squeeze a little out of the weekly budget and do something pretty for themselves. I also provide affordable inspiration for you to get your shop on.
Alright pretties, let's get down and dirty today and talk about something we don't very often…our bras and panties!
You might call them undergarments, intimates, foundations or skivvies, I call mine unmentionables.  Not because I'm uncomfortable with the other terms.  But because if you went through my undergarment drawer right now, you'd never want to mention it again.
Sorry, TMI. 
One of my resolutions is to change that and have a drawer full of prettier underthings.  And I'd like to ask you to join me today in a worldwide movement to clean out our undie drawers.
Let's band together and make today Get Your Pretty Undies On day!
All of our significant others will love us for this.  Trust me.
I'll admit to keeping the same tired old underclothes for years and not replacing them until they were almost unwearable.  Hey they were comfy!  But it's time to clean out and replace.  Which means I also get to shop.  Yay!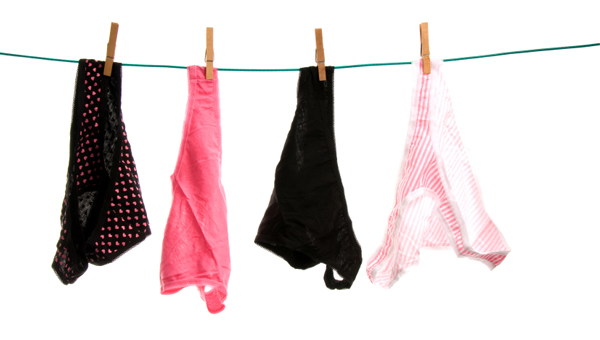 Here are my totals of what I'm getting rid of.
Bras:  4 + 2 strapless  (Bras are the most needed item in women's shelters.  Many domestic violence victims arrive with just the clothes on their backs.  If they're in decent shape, donate them to a local shelter.)
Panties:  10  (trash these, thank you!)
Spanx/Shapewear:  1 (torn, I done busted through my shape wear)
Slips:  2 (who wears these?)
Camis:  2 (worn out)
Alright, now that I know where I'm at, I can start getting my shop on and replacing.
BRAS
I'm really picky about bras and can't stand under wires of any kind, which seriously limits my options.  I usually buy t-shirt bras that are smooth under clothing and don't give me pointy boobs.  Yes, I said boobs.  Sorry if that's offensive.  I saw this a few days ago and it made me giggle.
My Actual Style
[Wacoal – Basic Beauty Wire Free Bra]
What My Hubby Wishes My Style Were
[Hanky Panky – Nude Illusion Peek-a-Boo Bra]
(Sorry I'm all kinds of tacky today.  It must be the subject matter.)
PANTIES
I keep a wide variety of cuts and styles of undies for various reasons, which I won't get into (you're welcome).  One pair that I don't have (and probably won't) are the denim panties which my friend Sheaffer speaks of in this post right HERE.   But here are a basic pair and a non-denim fun pair for inspiration.
[Leonisa – No Show Seamless Hip Hugger]
[Wacoal – Leopard Sweet Seduction Panty]
SHAPE WEAR
Spanx have saved my life on a few occasions.  Yes, they have that ability.  Like the time that I couldn't fit into my only pair of black dress pants before a business dinner.  Or the time that I had to suck into a dress that was two sizes too small for an acting gig.  They are a necessary evil in every woman's arsenal.  Except you naturally skinny ones, of course, not you.
[Spanx – Mid-thigh Bodysuit Shaper]
CAMISOLES
You know how much I love camis and tanks, they are my every day staples.  I had to get rid of a few that were starting to show some wear.  I'd like to pick these shaping camis up to replace them.
[Assets – Fantastic Firmers Shaping Camisole]
[Skinny Tees – Shaping Long Cami]
It's Your Turn:  OK, I could do the obvious thing here and ask about the state of your undie drawer.  But if that's too personal, then tell me about a topic you'd like to see covered in a Payday Pretty series in the comments.
TOP 25 FASHION AND BEAUTY MOMS

There's less than a week left to vote! I'm still trending in the top 25, so every vote counts BIG TIME.  If you think I belong on this list, please take a moment and vote for me by clicking the badge below. You can come back and vote every day.
Related posts: