The I Feel Pretty link up has been back for two months and every week I love browsing all of the amazing outfit inspiration and trends you girls are rocking!
Once a month, I'll be dedicating a post to some of my favorite trends featured in that month's link up.  Here are five fall trends worn by September's Pretties.
Try the Trend
Try the Trend
Try the Trend
Try the Trend
Try the Trend
Fall Challenge Closing Soon
If you're ready to try some new fall trends in a supportive, encouraging environment join me for the Fall 2016 GYPO Style Challenge.  We'll be styling some of the trends in today's post plus many more during our 27 days of mix and match outfits.  You'll get your fall trends shopping list and access to the first week of outfits plus six bonus outfits immediately upon signing up!  It's totally risk free, if you try it and it's not for you, I'll happily refund you before 10/10. Build your fall capsule wardrobe with me!  Sign up HERE.
Getting my pretty on with Style Elixir, Sheaffer Told Me To, The Pleated Poppy, The Mix, Jo Lynne Shane, A Little Bit of Everything and Two Thirty-Five Designs.

I Feel Pretty Link Up
It's the day of the week at GYPO where we celebrate what makes us feel pretty. Whether it's a new outfit, hairstyle, or makeup, the I Feel Pretty link up is about anything and everything that makes your life prettier. Even if you're not a blogger, you can still play along. Just tell us what made you feel pretty this week in the comments.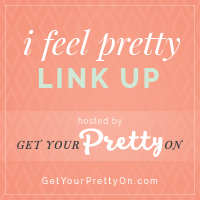 Get Your Pretty On
Instructions: Select all code above, copy it and paste it inside your blog post as HTML
There are just a few simple rules:
1. Follow GYPO. (
Bloglovin
',
Facebook
, 
Instagram
or
Pinterest
)
2. Link up your pretty post.
3. Link back to GYPO (using the button above or your own link).
4. Visit other pretties.
That's it, now go have some fun!