Let's just agree that we all have better things to think about this time of the year besides what to wear.  Winter should be for spending cozy quality time with those we love, right?
Today I've put together 12 different mix and match winter outfits all created from pieces in the Winter 2016 GYPO Style Challenge to hopefully make your life a little easier!
The best part?  You can shop your closet for most of the pieces – just follow the outfit formulas below!  But if you don't have already them, I've got you covered with links to shop.  To shop a link, simply click on the item name in each outfit formula!
Tip:  Be sure to pin this post so you can save the outfits for later!
12 Cozy Winter Outfits + Links to Shop
All of these outfits and pieces are part of the Winter 2016 GYPO Style Challenge.  If you're not familiar with the GYPO Style Challenge yet, every season I give the participants a shopping list of trends and classic pieces, along with links where you can shop on your own and spend as much or as little as you want.  Most women shop their closets first!  After all of the pieces are in place, I send you a different outfit combination created from pieces on that list to your inbox every day for three weeks.  It's a super easy way to build a functional capsule wardrobe, stay on trend and know exactly what you're wearing every day.
The best part of all is our private Facebook group where we share shopping tips, selfies of our outfits and create new friendships.  It's honestly the nicest place on the internet and the safest space for you to explore style.
If you've resolved to rediscover your style in 2017, we'd love to have you join!  You can learn more about the challenge and sign up HERE.
Getting my pretty on with Style Elixir,  The Pleated Poppy, The Mix, and A Little Bit of Everything.

I Feel Pretty Link Up
It's the day of the week at GYPO where we celebrate what makes us feel pretty. Whether it's a new outfit, hairstyle, or makeup, the I Feel Pretty link up is about anything and everything that makes your life prettier. Even if you're not a blogger, you can still play along. Just tell us what made you feel pretty this week in the comments.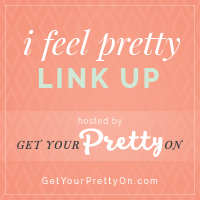 Get Your Pretty On
Instructions: Select all code above, copy it and paste it inside your blog post as HTML
There are just a few simple rules:
1. Follow GYPO. (
Bloglovin
',
Facebook
, 
Instagram
or
Pinterest
)
2. Link up your pretty post.
3. Link back to GYPO (using the button above or your own link).
4. Visit other pretties.