A few weeks ago, I did this "now and later" post featuring one of my favorite fall transition pieces, the peplum top.  Turns out it was pretty popular because a lot of you have been tagging me on social media and showing me how you're pairing up your peplum tops too!
Sometimes all it takes to make an outfit interesting is the little details, like a peplum.  It elevates a basic t-shirt and jeans to another level.
Since we all agree that the peplum top is a great fall transition piece, today I decided to show you a few more ways to get even more wear out of your peplum top while we wait for true fall weather to arrive.
If you don't have one yet, Loft has SO many cute peplum top options for fall.  There's a color, pattern and style for everyone.

Jeans Outfit:  Layer a cozy long cardigan over your peplum top and jeans, add ankle boots and accessories for an instant fall outfit.  Sweater/Earrings/Peplum/Jeans/Bracelet/Ankle Boots
Office Outfit:  A peplum shell is office ready with a statement making necklace, slim black ankle pants, leopard print block heels and a quilted moto jacket.  Jacket/Ankle Pants/Peplum/Necklace/Heels
Here's another way that I paired up my peplum tank in real life.
[Peplum Tank:  Same/Jeans:  Similar/Leopard Clutch:  Similar/Necklace:  Similar/Watch:  Same/Shoes:  Similar]
Fall Challenge Opens Friday – $500 Giveaway
Want to know the easiest (and most fun) way to get your fall wardrobe in order?  Join the Fall 2016 GYPO Style Challenge!  It's an affordable way to have a personal stylist (me!) for fall.  You'll get a fall trends shopping list plus 24 days of mix and match outfit ideas created from pieces on the list.  You're free to shop where you want and spend as much or as little as you want. Every day, you'll get a new outfit idea delivered to your inbox so you know exactly what to wear and how to put it together. It makes getting dressed a no-brainer!  Get on the e-mail list to be the first to know when registration opens and find out how you could win my $500 Fall Wardrobe Giveaway!
Getting my pretty on with Style Elixir, The Pleated Poppy, The Mix, A Good Hue, Jo Lynne Shane, A Little Bit of Everything, and Two Thirty-Five Designs.

I Feel Pretty Link Up
It's the day of the week at GYPO where we celebrate what makes us feel pretty. Whether it's a new outfit, hairstyle, or makeup, the I Feel Pretty link up is about anything and everything that makes your life prettier. Even if you're not a blogger, you can still play along. Just tell us what made you feel pretty this week in the comments.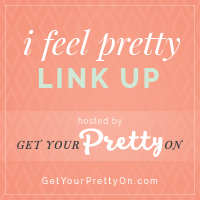 Get Your Pretty On
Instructions: Select all code above, copy it and paste it inside your blog post as HTML
There are just a few simple rules:
1. Follow GYPO. (
Bloglovin
',
Facebook
, 
Instagram
or
Pinterest
)
2. Link up your pretty post.
3. Link back to GYPO (using the button above or your own link).
4. Visit other pretties.
That's it, now go have some fun!