My husband Craig is not a guy who likes to buy things for himself. So in the weeks leading up to a gift giving occasion, I go into detective mode, picking up subtle hints and clues to put together his wish list of items.
The past few weeks I've been in sleuth mode, even going so far as to check out what he's viewing on Amazon.  If you haven't tried that yet, it's a great way to get ideas!  Not that I'm encouraging snooping or anything.  🙂
Here's my short list of Father's Day gift ideas that Craig has on his radar that would be sure to please any dad on your list.
My husband is addicted to watches.  He loves big watches like this one and this one.  But since he already has both of those, I'm going with something a bit sleeker and dressier this time.
Every guy likes to smell good and most of them won't buy cologne for themselves.  It's our wifely duty to make sure that they get a great smelling cologne.
Manscaping is a necessary evil.  This handy grooming kit makes it a cinch.
My hubby travels a lot for business.  Having these travel sized essentials in his grooming tote is a great space saver.  And they smell amazing!
A comfy pair of casual kicks is always a good idea.  This pair looks great with jeans.
A classic pair of Ray Ban sunglasses will always be in style.
Craig wears his belts until they are almost falling apart.  Since it's my job to keep him from looking like a hobo, a nice leather belt makes the list.
This speaker is perfect pool side this summer.  Remember, men LOVE gadgets so you can never go wrong with one of these!
And one last bonus item…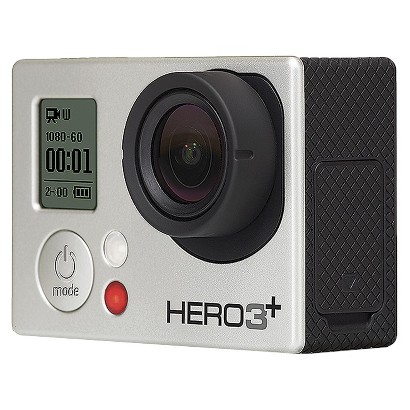 A GoPro Camcorder is the most hinted for item on Craig's Father's Day wishlist.  I'm not exactly sure what he plans to do with it but I have some ideas…like, strap it to the dog's head to see what she does while we're gone.
It's Your Turn:  What's on your hubby's wish list this Father's Day?
$200 GIFT CARD GIVEAWAY
The GYPO Style Challenge bloggers have teamed up to offer a Gap Brands gift card giveaway.  Be sure to stop by and visit their blogs and enter to win a $200 gift card in the Rafflecopter below.
I FEEL PRETTY
It's the day of the week at GYPO where we celebrate what makes us feel pretty. Whether it's a new outfit, hairstyle, or makeup, the I Feel Pretty link up is about anything and everything that makes your life prettier. Even if you're not a blogger, you can still play along. Just tell us what made you feel pretty this week in the comments!
There are just a few simple rules:
1. Follow GYPO. (
Bloglovin
',
Facebook
,
Twitter
,
Instagram
or
Pinterest
)
2. Link up your pretty post.
3. Link back to my blog (using the button above or your own link).
4. Visit other pretties. That's it, now go have some fun!