Hello, pretties and a post-Christmas TGIF to you!  Welcome to week five of Build Your Outfit Basics.  If you're new here, let me catch you up.  BYOB is a six week series built around my Five Wardrobe Basics for Real Moms.  Each week I feature one of my favorite outfit builders along with some affordable options to help you build or add onto your own wardrobe.
In week one, I featured dark wash skinny jeans.  Week two was all about fabulous, cute and comfy flats, week three featured one of my favorites, scarves and in week four I confessed to my total obsession with cardigans.
Week Five's outfit builders lay the foundation for just about any look – tees and tanks.  If you've followed me for long, you've probably already noticed that I layer a tee or tank under almost everything.
Like these looks starring my gray and taupe tanks.
My drawer full of tanks gets accessed year-round.  There's just something that feels right about layering, I can't quite explain it but I do it almost every day.  And these long tanks from Forever 21 are my absolute favorites and are only $4.80 each! I have one in ever color of the rainbow.
Although tanks tops are my main go-to layering piece, I also wear a lot of t-shirts.  They work great under cardigans and sweaters or on their own with a statement necklace or scarf.
Here are some of my fave basic tanks and tees.
[Long Tank  Top:  Forever 21]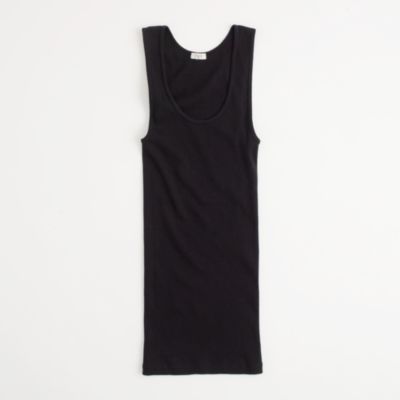 [Everyday Tank:  J. Crew Factory]
Tissue Tees are the perfect weight for layering.  Here's one that I love.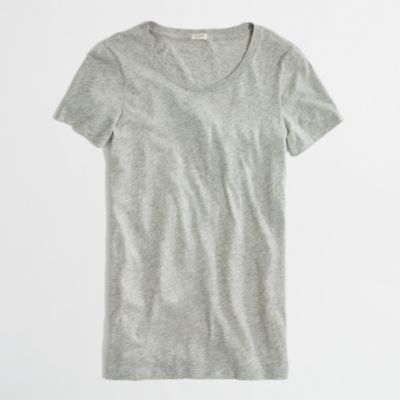 [Tissue Tee:  J. Crew Factory]
I love the longer length and shirred sides of this tee.
[Shirred V-neck Tee:  Nordstrom]
BONUS OUTFIT BUILDER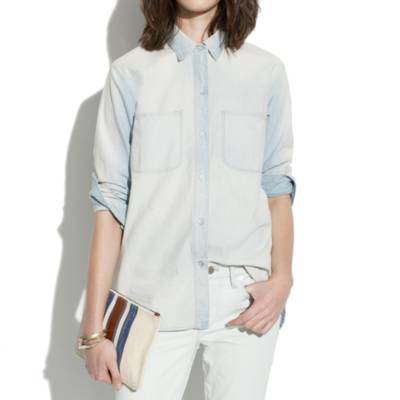 [Chambray Shirt:  Madewell]
While I was writing this post, I started thinking about some other favorite basics that I wear on a regular basis.  One of my fall purchases kept coming to mind – my denim shirt.  Denim shirts, and their lighter weight cousin chambray are CRAZY versatile!
Here are some ways to pair them up:
Under cardigans and sweaters
Over tank tops as a jacket
Belted with a maxi skirt
With leggings, riding boots and a scarf
Tucked in with dark wash denim skinnies (below)
I have a feeling I'm just going to keep finding ways to wear it year-round…thrown over a bikini with a sarong, tucked into shorts with a tank top or with colored denim like this look below that I LOVE.
[Camel Jeans:  Fossil]
Here are some of my favorite denim and chambray shirts.
It's Your Turn:  How healthy is your collection of basic tees and tanks?  What are you planning to update?
Have you taken the Payday Pretty Challenge yet?
If you do, you could win a $20 Target gift card!  I'm giving away one each week of the BYOB series.
All you have to do is take $20, $50 or $100 out of the weekly budget and do something pretty for yourself.  Then show me what you got!  Here are the ways you can enter:
1.  If you're a blogger, write about Payday Pretty in a post and link back to me.
2.  Post a photo to the GYPO Facebook page showing me what you got.
3.  Tweet about the Payday Pretty Challenge Giveaway.
4.  Leave me a blog post comment telling me what you got.
Happy shopping and good luck!
a Rafflecopter giveaway
Week Four's Payday Pretty Challenge winner is Cindy B.!
Congratulations Cindy!  Your $20 Target gift card is on it's way.  I hope you do something pretty for yourself with it!
Stay pretty, my friends!
Alison
Getting my pretty on with Aloha Friday, Casual Friday, Favorite Frock Fridays, Strut Your Stuff, Watch What I'm Wearing, Life is a Runway