Even though it's brand new, this navy blazer is making feel all old school.  You know, like I should be hanging at Bel Air Prep with Will and Carlton.
That's a Fresh Prince of Bel Air reference for you youngsters.
"In West Philadelphia, born and raised…"  I dare you to not finish the rest of that in your head.
Will, of course, famously wore his blazer inside out.
It was still in dress code, right?
Although mine has a pretty lining too, I kept it on the right way.
[Blazer:  Kenar (Similar)/Jeans:  LOFT/Shirt:  H&M (Similar)/Necklace:  Target/Earrings:  Macy's/Shoes:  Tommy Hilfiger (Similar)]
Heather tagged me yesterday in her five things post, so I thought why not?  Looks like fun!  Here goes…
Five Facts about Alison
1.  I love 90's sitcoms (see above).  My hubby and I have watched re-runs of every episode of Fresh Prince, In Living Color, King of Queens, Golden Girls, Mama's Family and Designing Women.  OK, so there's some late 80's overlap in there.
These shows are pure nostalgia.  Some of them remind me of living at home and watching with my mom, like Designing Women.  Others bring back high school memories.  My friends and I used to recap scenes of In Living Color at the lunch table the day after an episode. Fresh Prince brings me back to college days, watching with my roommate and BFF, Danielle. We've been best friends since we were twelve.
This is us circa 1993, crazy girls!  That's me on the right…naturally curly big hair, the envy of all the girls back in the day.  Thank God for the flat iron.
2.  My hubby and I met on a blind date twenty one years ago when I was 18 and he was 21.  Even though we were apart for five years (of growing up!) before re-uniting and getting married, I always knew he was "the one".   I truly believe that God created the perfect man for me.
This was taken on our anniversary last year.
3.  I grew up in a tiny town in Pennsylvania named Hopewell (population 200).  My high school graduating class had only 89 students in it.  I'm a first generation college grad.
This is the house that I lived in from the age of four.  My parents still live there, which is really cool. I love to visit and sleep in my old bedroom.  My kids have a blast there and get to make the same memories, playing in the river behind Mimi and Pappy's house, taking hikes and doing the things that I did growing up.
4.  I'm the youngest of three girls.  My sisters both live in the Dallas area too.  My oldest sister Andrea moved here first, I followed her right after college and our middle sister Heather moved here five years ago.  We spend every holiday together.
Me, my sister Andrea and my sister Heather.
5.  Five, hmm.  I have to come up with five?  I'm just not all that interesting.  Oh, here's one.  I was our local "fire queen" in high school.  In case you're wondering what a fire queen is, it's essentially an excuse to have a pageant in a small town.  I made speeches about fire safety and rode on top of fire trucks in parades. I was kind of a big deal with big hair.
There you have it.  Five captivating facts about my life.  Now onto the fun!
I FEEL PRETTY
It's time for this week's I Feel Pretty link party but first let's take a look at last week's Pretty of the Week.
She's Jennae of Green and Gorgeous!
Her chambray, white skirt, turquoise necklace and cobalt blue flats are perfectly tied together with the fun Aztec print clutch.  Gorgeous, indeed!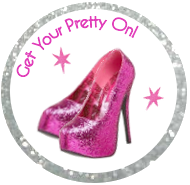 Link up your outfits or anything else that makes you feel pretty.  There are just a few simple rules:
1.  Follow GYPO. (Facebook, Twitter,  Bloglovin')
2.  Link up your pretty post.
3.  Link back to my blog (using the button above or your own link).
4.  Visit other pretty peeps.
That's it! Let the fun begin.

'); // ]]>
Getting my pretty on today with The Pleated Poppy, Shanna, Stylelixir, Aloha Friday, Wardrobe Wednesday, Fashion Informant, Six Sisters Stuff.