There's no doubt that one of my favorite pieces that I've upgraded my wardrobe with recently is my chambray shirt.  Actually I didn't even buy it for myself.  My hubby got it for me for my birthday.  When I first saw it I thought, I'm NEVER going to wear that thing.  It wasn't that I didn't like it.  I just rarely wore button downs of any kind.  But as the Biebs would say, never say never…
And for good reason, check out how he rocks chambray with denim on denim.
[Via]
First I paired it up with colored denim.
Then I got all crazy like Justin and wore it with denim on denim.
After that I layered it under a sweater.
Then I got super brave and wore it with leggings.
It has truly been a closet staple for fall and winter.
And now I'm looking at ways to keep pairing it up for spring and summer.
With mint jeans, a striped tank and floral flats.
With some floral shorts and wedges. I lived in my floral shorts last summer and plan to get more this year.
Over a maxi dress with metallic flip flops.
Even thrown over a bikini at the beach!
What's that you say?  You don't have a chambray shirt yet?  Well, girlfriend, we need to fix that!
Here are some options for every price point.
Spendy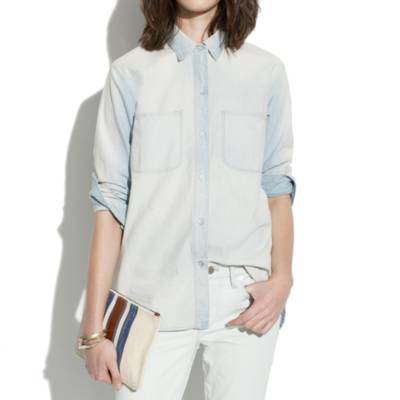 Mid-Range
Thrifty
Buy one now, ya hear?
I FEEL PRETTY LINK PARTY
I'm starting something new this week.  Each week I'm going to feature a Pretty of the Week from the previous week's link party.
Our very first Pretty of the Week is…
Amber of 3 Ladies and Their Gent!
How cute is she?  I just love her leopard heels, plum cords and perfect accessories.
And now on to this week's fun!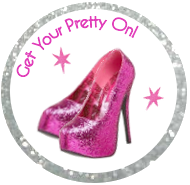 Link up your outfits or anything else that makes you feel pretty.  There are just a few simple rules:
1.  Link up your pretty post.
2.  Link back to my blog.
3.  Visit other pretty peeps.
That's it! Let the fun begin.

'); // ]]>

Getting my pretty on with The Pleated Poppy, Random Wednesday, Style Sessions, Wardrobe Wednesday, Rolled Up Pretty, Look What I Got, Aloha Friday, Friday's Fancies