Psst,I have a secret.
I'm leopard obsessed!
OK, maybe it's not a secret.  If you've been reading for long then you've seen me wear all of these great Payday Pretty pieces of leopard over the past few months.
Leopard Gloves [Similar]
Leopard Belt [Similar]
Leopard Cardigan [J. Crew Factory]
Leopard Flats [Similar]
Leopard Scarf [Similar]
Even leopard socks! [Similar]
Yep, leopard is an awesome way to add a little somethin' somethin' to just about any outfit.
Let me illustrate using three of my favorite bloggers:
#1 – It works as a neutral and looks just as good paired up with patterns as it does with solid colors.
I love how Nikki is rocking this leopard with floral look.
#2 – It looks incredible with red.
Shanna's red accessories are sheer perfection!
#3 – It's oh so rich with green.
Does Sheaffer look sassy or what??
Speaking of Sheaffer, she loves her some leopard in this post too!
Now I'm looking to expand my leopard collection past the basics.  So I went on the hunt for some leopard Payday Pretty inspiration pieces for $50 and under.  I'd love to add these to the collection!
Picture these wedges with a pair of crisp white shorts, a bright orange cardigan and gold accessories.  Summer perfection!
[Madden Girl – Leopard Wedges]
I love the classic Timex face and the calf hair band on this watch.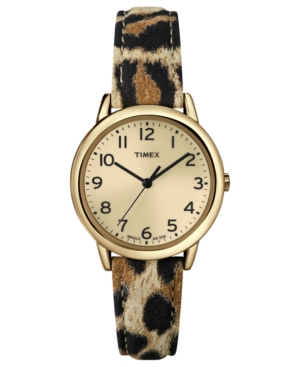 [Classic Timex Leopard Band]
So cute to kick around in with my favorite pair of boyfriend jeans!
My iPhone case called and it wants an upgrade.  This one will do.
[Tory Burch Leopard iPhone 5 Case]
I flippin' love these pants!  Just picture them with a little green cardigan for spring.  Oooo, must have!
[Virginie Castaway Leopard Pants]
And since my leopard flats are almost worn out…one splurge, just for fun.  Hey, a girl can dream, right?
It's Your Turn:  How are you wearing leopard?  Are there any pieces you want to add to your collection?  Tell me in the comments!
Getting my pretty on with The Pink Mama, Casual Friday, Six Sisters Stuff, Visible Monday, YOLO Monday, Brassy Apple, Market Yourself Monday, Monday Mingle