Hi Pretties!  Welcome to the first week of my brand spankin' new I Feel Pretty link party.
In Monday's outfit post I introduced you to my new fur vest.  Today I'm showing you another look I recently created with it.
This pic is my attempt at looking sultry, ha!  Not really, it just turned out that way.
Pay close attention to the weird thing I did with my hands in all of these pics.  Hubby should've told me to stop that!
[Fur Vest:  Forever 21 (similar)/Sweater:  Forever 21 (similar)/Necklace:  Forever 21/Earrings:  Rue 21/Corduroys:  Nordstrom/Leather Bracelet:  Target /Boots:  Target (old)]
It's your turn to show me what makes you feel pretty.  But one quick request beforehand…
Could you do me a super quick favor?
Would you mind voting for me in the Top 25 Fashion and Beauty Moms?   I'm not a big blog but thanks to all of you, I'm trending in the top 25!  Every vote counts BIG TIME!  If you think I belong on this list, please take a moment and vote for me by clicking the badge below. You can come back and vote every day too.  THANK YOU!

I FEEL PRETTY LINK PARTY!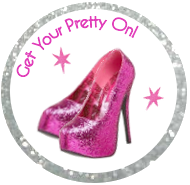 Link up your outfits or anything that helps you Get Your Pretty On!
There are just a few simple rules for this pretty party:
1.  Link up your pretty post.
2.  Follow Get Your Pretty On.
3.  Link back to me in your post.
4.  Visit other blogs and meet new pretty peeps!

'); // ]]>
Are you ready to grow your blog or business? 
With over 30,000 monthly page views and 16,000 visitors, now is a GREAT time to advertise with Get Your Pretty On!  Through the end of January, get one month FREE when you buy two.  Click HERE for details!
Linking up today with The Pleated Poppy, Random Wednesday, Wardrobe Wednesday, What I Wore Wednesday , Style Sessions, Look What I Got, Aloha Friday, Friday's Fancies, Six Sisters Stuff