I'm going to get really real with you today.
One of the biggest struggles of my life has been this nagging belief that I'm not good enough.
It's effected me in big ways since I was a young child.  In elementary school, I was shy and reserved, afraid to speak up, yet desperately wanting attention.  In junior high and high school, I let it hold me back from doing things I would've loved, like trying out for big parts in plays or singing solos.
I always wondered why anyone would pick me.
This belief followed me into adulthood, but something changed.  Instead of letting it hold me back from trying things, I started to do them anyway.  Including going after my lifelong dream of being an actress.  Still, "not good enough" tagged along to every audition, sizing up my competition and often defeating me before I even walked in.
The blogging world can really bring out this insecurity.
There are comparisons to be had everywhere.  While most days I have the "not good enough" demon in it's rightful position, it still rears it's ugly head.
When I found out that I had been selected by Wallis as one of the 28 bloggers to compete to be their U.S. ambassador, I was ecstatic.  That feeling didn't last long before "not good enough" started talking.  As soon as I saw the other bloggers in the competition, I knew that this would be a real challenge for me.  I'm one of the newer blogs on the block, I don't have as many followers.
This post is supposed to be about the reasons why I think I should be the Wallis ambassador.  Instead when I sat down to write it, "not good enough" started telling me all of the reasons why I shouldn't, like…
I'm a mom of three way past her 20's.
I have curves and am not stick thin.

I'm not a high end style blogger.

Most of my outfits are under $100 total.
I have no formal fashion training.
Then something dawned on me.
The reasons why I should be Wallis' U.S. ambassador are all of the reasons that "not good enough" told me I shouldn't.
I'm a real woman and a real mom, I have a real body and I shop on a real budget, I wear what feels good to me and makes me feel pretty.
And that is exactly what makes me good enough.
[Blazer:  Wallis/Scarf:  Wallis/Shirt:  Target (similar)/Jeans:  Target/Shoes:  Target (similar)/Sunglasses:  Michael Kors]
SHOP THE LOOK
Do you think I'm good enough too?
If so, I would love it it you would stop by and vote for me to be the first U.S. Ambassador for Wallis.  All you have to do is click the button below.  You can vote every day.
I Feel Pretty
It's time for this week's I Feel Pretty link party but first let's take a look at last week's Pretty of the Week.
She's Bonnie of Delusions of Grandeur!
Her gauzy mint dress, nude pumps and beautiful blue pashmina make for the perfect ladylike date night look.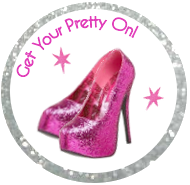 Link up your outfits or anything else that makes you feel pretty. There are just a few simple rules:
1. Follow GYPO. (Facebook, Twitter, Bloglovin')
2. Link up your pretty post.
3. Link back to my blog (using the button above or your own link).
4. Visit other pretty peeps.
That's it! Let the fun begin.
 Loading InLinkz …

Getting my pretty on today with The Pleated Poppy, Shanna, Stylelixir, Wardrobe Wednesday, Whatever, Whenever Wednesday, Target Thursday, Aloha Friday, Fashion Informant, Falling for Friday, Friday's Fancies, Casual Friday