I've got an announcement today about the long-awaited Spring 2015 GYPO Style Challenge!  But first, let's talk about another spring style essential.  During the month of March, I've been doing a series about some of my favorite pieces for spring.  Week one was All About the Trench, week two was All About the Button Down and week three is All About the Striped Dress.
When I did some spring trend-spotting in London and Paris last week, nautical (or maritime) was featured prominently in many spring collections.  Striped dresses were at the center of many of those outfits.
Why the striped dress?  It's just an incredibly versatile piece.  And did I mention comfortable?  There's nothing easier to thrown on and look instantly put together.  It works for so many different things.
Styling Options
1.  Dress it Up:  Add heels and a necklace for a classic and glamorous look.
Image Via Sophistifunk
Image via My Curves and Curls
2.  Dress it Down:  Throw on your favorite pair of sneakers for a comfy, casual look.
Image via Chicisimo
3.  Add a Topper – A denim jacket or military vest makes for the perfect top layer over your striped dress.
Image via With Love from Cat
Image via The Chicest Ambry
4.  Warm it Up:  This dress works for all seasons.  Just add boots and tights.
Image via Xposurephotos.com
5.  Scarf it:  Add some interest with a pretty printed scarf.
Image via Robinette Kelly
Shopping Options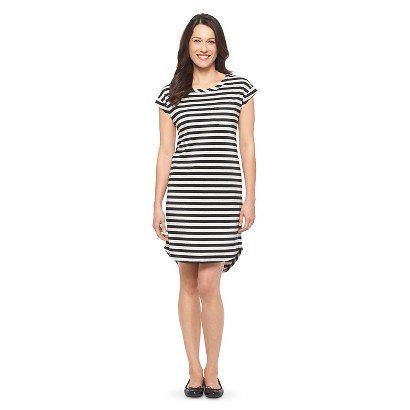 [Target]
It's Your Turn:  How will you be styling your striped dress this spring?  Share your style tips in the comments.
 Spring 2015 GYPO Style Challenge Announcement
If you were inspired by these striped dress outfits, then you're going to love the Spring 2015 GYPO Style Challenge!  Registration opens next Friday, March 27th.  This challenge will include your spring capsule wardrobe shopping list of the latest trends plus 21 days of mix and match outfits.  It makes looking put together and stylish this spring a no-brainer.  One lucky girl will win a $500 spring wardrobe.  Be sure to sign up for my mailing list so you don't miss the details!