One of the biggest tips I hand out about fit is this:  To keep your proportions right, pair loose with fitted.  For instance, if you wear a tight fitting top, go with something loose on the bottom, like slouchy jeans, palazzo pants or a flowy skirt.  If you opt for an over-sized, long or loose top, go with a fitted bottom like skinny jeans or leggings.  But don't ever do an all-over look of either type.  Too much loose doesn't accentuate your shape, too much tight and well, you get the opposite effect.  🙂
My favorite real-life representation of this "fit rule" is leggings and long tops.  It's the perfect combo of comfort and style and just so happens to be one of my favorite uniforms for fall/winter.
Leggings lovers rejoice, your favorite tunics and tights are back for another round this year.  If leggings aren't your cup of tea, swap them out for skinny jeans to get the same effect.  Add in your favorite boots or flats and you've got yourself an instant outfit!
Leggings + Long Tops
 Here are seven ways that I've paired up leggings and skinny jeans with long sweaters and tunics.
With faux leather leggings, cobalt blue and leopard.
With a sweater, stripes and Hunter boots.
With a tunic and Aztec cardigan.
With polka dots and stripes.
With cozy cashmere and an oversized scarf.
With a long tank and sweater.
With stripes and leopard.
Thanks to Pinterest, my most popular post ever is all about leggings and long tops.  Check out my Week's Worth of Legging Outfits for even more outfit ideas.
OK, let's start with a GOOD pair of leggings for the base of these outfits.  My all-time favorite pair are these slimming leggings.  They're just the right thickness, hold everything in place and keep their shape wash after wash.  I've had mine for two years and they're still going strong!  Definitely worth spending a little more on.
For a lightweight fall layer, try a tunic blouse.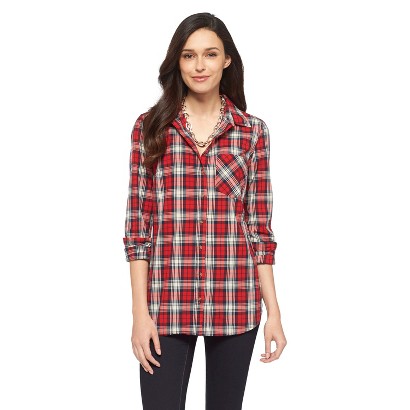 A long cardigan is the perfect partner on chilly days.
For a comfy, athletic vibe, try a long sweatshirt.
Solid tunic sweaters create the right backdrop for your favorite printed scarf.
Late Registration Open
If you guessed that leggings and long sweaters are on the shopping list for the Fall Style Me Pretty Challenge, you'd be right!  Late registration is now open.  Sign up now to get your shopping list immediately.  The daily outfits will start next week.
It's Your Turn:  What's your favorite way to wear leggings?  Tell us in the comments!